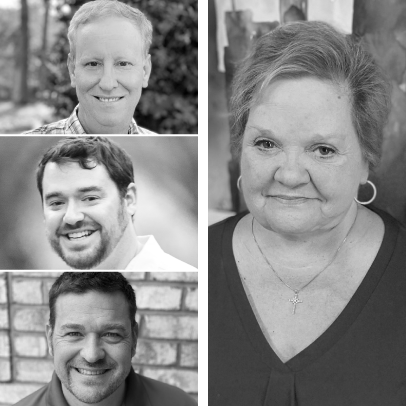 Two thriving independent South Carolina brokerages – ChuckTown Homes Real Estate and Bowen & Associates Realty – have announced their move to Keller Williams. At $175 million and $80 million in volume, respectively, each firm has achieved remarkable success, which they look forward to amplifying at their new professional home.
ChuckTown Homes
Jeremy Wilson, Donald Russell and Shawn Pillion, the three owners of ChuckTown Homes, have backgrounds in restaurant operations and regional management. They formed the company 16 years ago and built their business on the back of their restaurant work ethic, with its 18-hour days and constant hustle. In the early days, they door knocked, drummed up any business they could find, and made a name for themselves around Charleston handling short sales, foreclosures and REOs back in those challenging market days around 2008. Their hard work paid off. Since its inception, ChuckTown Homes has grown every year. In fact, in the last couple years, the company has grown by 20 and 30 percent. Year to date, the team of 23 is on track to close 500 units for $175 million. Pillion points out the heart of their success: "We try earnestly to do the best job we can for every client and take care of them well. Our past clients have really built us up over the years and they keep coming back to us. Treating everybody right has been our building block over the years to steady, sustained growth."
Now they want to expand and duplicate their success model in cities and states across the nation. When they kicked the tires a bit in nearby Columbia, South Carolina, they realized that there was a tremendous amount of logistics involved in building out an office space, recruiting leaders and agents in a town where they were unknown and launching a brand in a city where they didn't have any personal connections. That's when they met up with Keller Williams, where they learned that the company has a long track record of success with proven expansion models and systems and offers a playbook, network and resources to help them expand with confidence. They're excited that they can provide opportunities in other cities and offer people an opportunity to grow, prosper and really run their own businesses. "Our goal is two expansion teams within the first three months, and six or seven by the end of the first year," Russell says. "We know we'll make some mistakes along the way and have a lot of learning to do, but we're confident we'll succeed with the expansion tools, technology and support that Keller Williams provides." Wilson adds, "We're already talking to team leaders who are ahead of us in the expansion process and learning from their experience and best practices. We've built the spreadsheets and closely examined the possibilities, and the numbers work. Powered by Keller Williams, expansion just makes good sense for the future of ChuckTown Homes."
Vincent Mariani, team leader of Keller Williams Charleston West Ashley, offered, "We are beyond excited to partner with ChuckTown Homes Real Estate. They bring an incredibly fun, authentic and productive culture, which fully aligns with us. Their commitment to an unmatched client experience powered through strong relationships and the integration of technology is exactly what we teach our agents. With our new partnership, we will continue to expand our vision of inspiring agents to build businesses worth owning, lives worth living and legacies worth leaving. The future is bright!"
Bowen & Associates Realty
In Sumter, South Carolina, Debbie Bowen feels fortunate that her office is perfectly positioned about a mile from a military installation, a community with whom she and her team have built a deep affiliation. The bulk of the team's business comes from military families on the move. In the last 12 months alone, they have closed 417 units for $80.3 million.
Even with all of their success, Bowen felt her 30 agents deserved more than she could offer. She was impressed by Keller Williams' elite technology, lead generation programs, and models and systems, and felt compelled to get them in the hands of her team. As Bowen & Associates joins Keller Williams Palmetto, they will stay anchored in their same office in Sumter and establish the KW name in the city for the first time.
"We couldn't be happier about our partnership with Debbie Bowen and the amazing group of people she has assembled in Sumter," shared Matt Carroll, team leader at KW Palmetto. "The agents will now be able to combine their incredible knowledge of the local market together with the incredible tools, training and technology available to them now through Keller Williams. We just can't wait to watch each agent's business soar, helping more families buy or sell houses than ever before."
Bowen gets great joy from seeing her agents grow and thrive, and wants to make sure they have everything they need to continue excelling. "I know I've reached a plateau, and I need some more tools in the toolbox. That's why I'm really expectant and excited about joining Keller Williams to help our team continue to learn and grow."
Chris Parrish, a retired Air Force veteran and the group's #1 agent, is eager to build a team under the Keller Williams umbrella and implement the well-established systems to help him do so. His wife is also retired from the military and recently joined as his first team member. Together, they aspire to create 7th level leverage. "With my military background, I'm drawn to well-run training programs. With Keller Williams' emphasis on excellence in education, I have no doubt that I will grow as an agent and as a team leader."
Another of Bowen & Associates top agents, Jenilyn Stevens, is excited about the formal education that Keller Williams offers. "I've never had any formal training other than my real estate classes," she shares. "And even without advanced technology, I feel like our team is successful because we are close-knit and help each other overcome obstacles and achieve success. We're all looking forward to getting fully equipped and having access to the robust support that Keller Williams offers."